All changes need energy.
People say we are "on the wave" when we encounter a big periodic change.
P-WAVE is the Perception's way of work, changing the world with energy emitted from both creativity and logic.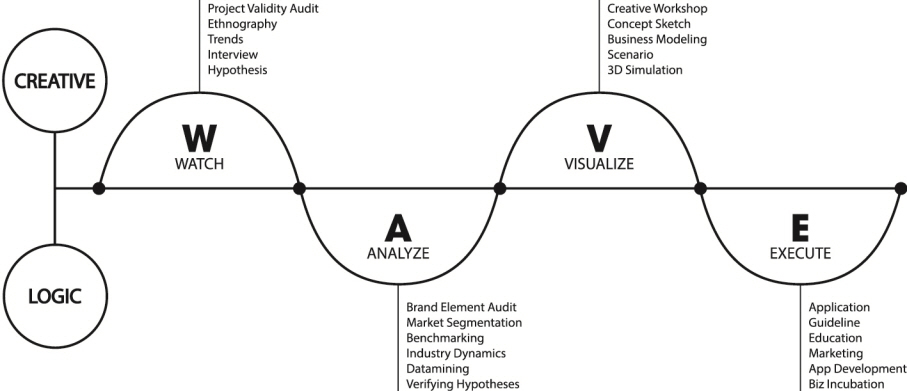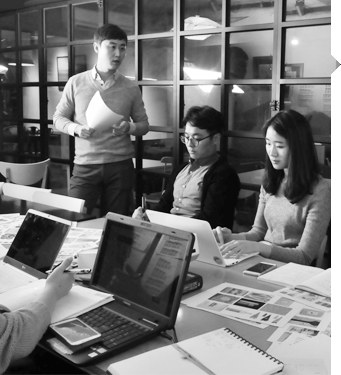 Watch
We cannot see through the essence behind the phenomenon by only depending on
already-recorded things. In "Watch" stage, we understand the context of subjects without
bias using observational methods based on ethnography, and come up with hypothesis by
deducting general insights.
Project validity analysis
Interview/survey(General people & professionals)
Trends Research

- PEST Analysis / Trend Research

Ethnography Research

- Scene investigation method / Picture observation method




/ Mobile Dynamics / Role-playing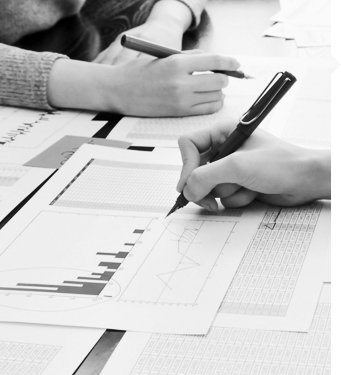 Analyze
Analyze the strategy for finding optimal solutions.
In "Analyze" stage, we verify the hypothesis that was drawn in the previous stage by using
various analytic methodology, and deduct insights that could lead to the best possible solution.

Consumer Analysis

- Market segmentation / User characteristic analysis




/ Customer Value Analysis / Shelf display analysis

Competitor/Industry Analysis

- Benchmarking / Image positioning map




/ Industrial structure analysis / KSF analysis

Design Competency Analysis

- Brand element analysis / Finance analysis




/ Vision analysis

Specialized Analysis

- Data-mining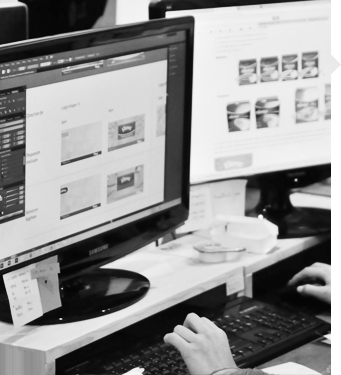 Visualize
The optimal concept is established when it embraces unmet needs of consumers.
In "Visualize" stage, we come up with ideas in multidisciplinary point of view by using various
ideation methodology, and design the optimal concept by going through "deep dive" process
to develop ideas in more details.
Cooperative Ideation

- Brain writing / Checklist method / Forced combination




/ Creative workshop / Tech & Humanities Convergence

Concept Setting

- Creative brief / Concept sketch

Verbal Visualization

- Persona / Brand book / Story board / Scenario




/ Business plan

Image Visualization

- Prototyping / Visual Research / 3D simulation




/ PDCS Visual interpreter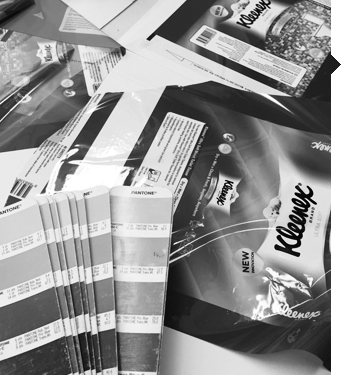 Execute
Perform a process of persuasion and organization process for the realization of the idea.
In "Execute" stage, we evaluate the design output, and communicate the result to customer.
We translate the solution into reality by documenting(report, mannual or guideline), marketing
or strating business.
Evaluation & Sharing

- Draft evaluation / PDCS Design selection tool




/ Client education / In-house communication

Documentation

- Design guidelines / Strategic reports

Marketing

- Brand element application / PR & Media execution / Distribution

Business

- Commercialization & Supervision / Web, App development